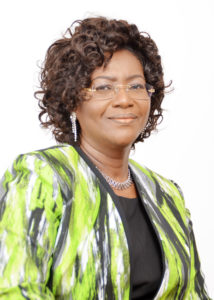 Rosemond Anaba is the wife of Pastor Eastwood and is a dedicated teacher of the Word of God with very practical insights into family life and personal development.
She is a Biological Sciences graduate of the Kwame Nkrumah University of Science and Technology- Ghana.
Rosemond Anaba is the Vice- President of Eastwood Anaba Ministries (EAM) and also, oversees the Social Transformation division of EAM whose mission is to equip and empower orphans and destitute children in Ghana and beyond to acquire quality formal education and or entrepreneurial skills so as to stem the increasing incidence of crime and moral decadence.
Her sterling leadership qualities are evident in whatever responsibility she undertakes. She is the Director of the Fountain Gate International School in Bolgatanga, a school that promotes the spirit of excellence in all spheres in that part of the world.
As a pastor, she has an unusual caring spirit and is a great source of inspiration to many women around the globe.
With a meticulous approach to the things of God, Rosemond has inspired pastors' wives and other women around the world to pursue God and discover their self-worth. Her strength lies in her personal devotion to Christ, affableness and her humility. Her husband Eastwood calls her an ideal Christian.
Every week, through the medium of the radio, Rosemond imparts grace and power to the peoples of the Upper East Region where she lives. She is one of the most heard female voices in the entire northern parts of Ghana. Her gentle spirit affords a perfect balance to her husband's militant approach to life and ministry.